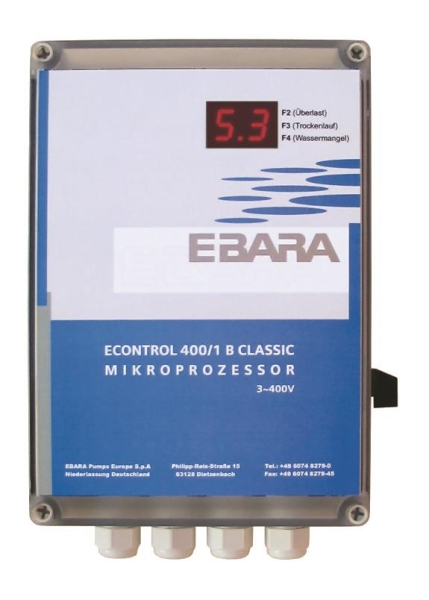 €617.15
excl. VAT: €501.75
VAT: €115.40 *
Quantity
Unit price
To

1

€617.15 * (€501.75 excl. VAT,

VAT: €115.40 *

)
From

2

€592.47 * (€481.68 excl. VAT,

VAT: €110.79 *

)
From

5

€568.26 * (€462.00 excl. VAT,

VAT: €106.26 *

)
From

10

€559.55 * (€454.92 excl. VAT,

VAT: €104.63 *

)
Prices incl. VAT plus transport costs
Delivery free of charge! (ROI & NI)
Delivery time ca. 14 working days
Item-Number:

6430000377

Manufacturer-No.:

6430000377

EAN / GTIN:

Weight:

2 kg

Manufacturer: EBARA
Pump Control Panel for the operation of 1x Pump | Duty/Standby 400V | 3Ph | 50 Hz | kW: 0.5...
more
Product information "EBARA ECONTROL CLASSIC 400V A | 1.0-11.0 A"
Pump Control Panel for the operation of 1x Pump | Duty/Standby
400V | 3Ph | 50 Hz | kW: 0.5 - 4.0 / A: 1.0 - 11.0 - IP 64
Dimensions: 175 x 200 x 100 mm
Automatic operation with connected pressure-switch or float-switch. Manual operation possible.
Digital display for operating conditions and Error-messages.
Cable connections: 4 x M20 (mains supply, pump, pressure-switch/float-switch, alarm)
ON/OFF Switch
Overload Protection, Short Circuit Protection, Phase-malfunction protection
Dry run protection via power factor COS-phi
Automatic Learning Program for pump parameters after start-up
Pump parameters + number of restarts with in between time-intervals can be manually altered
Alarm Output: potential-free for BMS (max. 230V/4.0A)
CE | WEEE | Made in Germany
The EBARA Econtrol Classic 400 A is a pump control panel for 1x three-phase pump in 400V/50Hz with a maximum power output of 0.50kW to 4.0kW or electric current consumption from 1.0A to 11.0A.
Automatic Pump Operation via external switch
The pump control panel is equipped with 2x input connections (marked "Schwimmer") to which an external pressure-switch, float switch or other external switching device can be wired. Once the contacts are closed the pump will automatically start operation. The pumping cycle ceases once the contact is opened again.
Integrated Learning Program on Start-Up
The panel has an integrated learning program which detects the power rating of the electric pump motor and automatically sets threshold values for motor-protection and pump dry run protection.
All pump parameters including the number of restarts after detected dry run and the time interval in between each renewed attempt can be adjusted.
Applications
sump pump

wastewater treatment system pump

well pump

rainwater harvesting pump; only direct-pressurised setup
The control panel can be used to automatically operate a drainage sump pump or effluent pump of a wastewater treatment system or septic tank via an electric level float switch inside the sump chamber.
Especially for a borehole well pump installation the EBARA Econtrol Classic is of benefit.
The integrated dry run protection via the electric power factor COS-phi resolves the issue of not being able to install a low level float switch inside the deep borehole.
Automatic pump operation for a well water installation can be provided by connecting a pressure-switch or float-switch to the panel.
The EBARA Econtrol Classic pump control panel can also be used at rainwater harvesting installations where mains-water top-up is provided to the underground rainwater storage tank.
Alarm Output to BMS
Should motor-protection or dry run protection be activated, the potential-free alarm output to the building management system (BMS) is closed, prompting an external alarm display in addition to the digital display of the panel.
Alternatively, the alarm output could also be used to activate an external alarm-light/buzzer/siren (max. 230V/4.0A).
Related links to "EBARA ECONTROL CLASSIC 400V A | 1.0-11.0 A"
Read, write and discuss reviews...
more
Customer evaluation for "EBARA ECONTROL CLASSIC 400V A | 1.0-11.0 A"
Write an evaluation
Evaluations will be activated after verification.